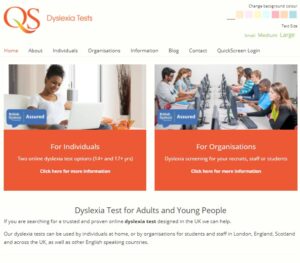 QuickScan and QuickScreen – Two OnLine dyslexia tools.
QuickScan is an online questionnaire that provides an insight into learning modalities and other aspects of study skills as well as dyslexia.
QuickScreen is a more in-depth diagnostic-style test that looks at ability and performance in a range of literacy skills.
QS Dyslexia Tests (QS) provide two online products for dyslexia screening for young people and adults and will flag up indicators for dyslexia.
The dyslexia screening tools are ideal for both:
individuals at home –  and
organisations – for their recruits, staff or students with a management portal, detailed reporting and annual licenses
Whether you are a personal user, educational establishment or workplace organisation, you have the option to use one or both of these screening tools depending on your requirements and results.
Please note there are costs associated with both tests.
But if you are signed in as a Display Screen Optimiser subscriber you can have a free go on QuickScan on the Tools Page
Why are we mentioning another company and website on our site? Because coloured overlays, in our case background colours for your digital display screen, help with dyslexia too.
In fact, this is how they were brought mainstream.
From working with people with dyslexia, we now know that coloured backgrounds also help mitigate the risks of screen fatigue.
For more information about QuickScan and QuickScreen, hop over to their website.
For more information about coloured overlays, and how colours can help you to improve your reading speed, improve your productivity and mitigate the harms of screen fatigue:
We suggest further reading from our blog – Colour Contrast 101 why is it important for eye health and then this excerpt from our white paper – Colour optimisation and visual stress