Zoom fatigue is NOT screen fatigue but adjusting for zoom fatigue will help with screen fatigue.
Yes, we are now fighting digital eye strain on several fronts, but zoom fatigue is more to do with how anxiety-inducing watching other's faces can be.
Stanford University conducted a study and found 4 things that they believe are the causes of zoom fatigue. In the article, they give solutions as to what you can do about it, but essentially it boils down to – turn off your camera.
Zoom meetings cause you to be close up to someone's face, often many faces in a confined space, which is not natural.
The only time you would do this in 'real life' would be in a rugby scrum, a group hug, or hiding in a fort with your friends.
It's this close up, zoomed-in images of faces they feel triggers the anxiety of public speaking, alongside … wait for it …triggering primal instincts of fighting or mating because the zoom call is that intense for our reptilian brains.
Top tip no 1 then is to reduce the size of the faces, and not be on speaker view. Instead switch to gallery mode if there are more than a couple of participants.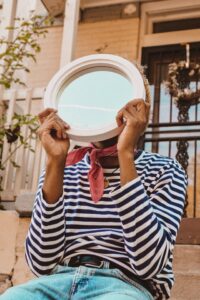 Seeing yourself on zoom is unsettling, (let's face it, zoom is not flattering) and this increase our negative self-talk, which increases our anxiety.
How many of you have been unnerved at your appearance on zoom, because that's not how you looked in the mirror 5 minutes ago?
The solution is to right-click on your image once you are on the call and hide the self-view.
Try it, it's very relaxing and only takes a few minutes to get used to.
Next point: We move a fair amount when we are chatting face to face, we gesticulate, and we look away a lot more.
When on zoom we continuously look at the faces, we don't look away, and this is unnatural, plus, it increases cognitive load, which means your brain has to work harder, it burns more calories and you become tired quicker.
The solution is to either have an audio call only or turn the camera off every now and then.
One writer suggests having the camera further away from you, so you can look at things on your desk and doodle – exactly the same way we do in a face-to-face group meeting.
The cognitive load increases on zoom because the non-verbal's are not as obvious.
Non-verbal's, according to verywellmind.com include facial expressions, gestures, paralinguistics such as loudness or tone of voice, body language, personal space, eye gaze, touch, appearance, and artefacts.
Nonverbal communication amounts to between 70-93% of communication.
When we are online, over zoom or another video conferencing app, we have to exaggerate our nonverbal communication, which makes the brain and body work harder, so the solution here is… you guessed it – have an audio call only.
Turn the camera off.
What about the introverts? Are they loving this?
Nope. They are screaming internally and are becoming well and truly frazzled, but that's another conversation that will involve exercise, mindfulness and yes, you guessed it – turning off the camera. (There is a link to an article for introverts at the end of this post)
So how does tackling zoom fatigue help with screen fatigue?
Turning the camera off allows you to look away from the screen – it allows your eyes to rest and relax. (Remember, screen fatigue is due to the eye muscles overworking.)
Screening for the risk of screen fatigue is as important as accepting the degree of stress associated with public speaking from your platform at home, as both are problematic when working online.
Being on zoom triggers anxiety. Screen fatigue also triggers anxiety, so this taking back control of your environment will allow you to reduce the anxiety.
Turning off the screen lets you move around, reducing the musculoskeletal issues we all get being glued to a screen, and finally, it allows you to stop pretending.
Screen fatigue and zoom fatigue both make you tired – hence the word fatigue. But when we are forced to stare at a screen for hours on end, with no decent break, our productivity drops, and we fall into what is called presenteeism – basically being at the desk pretending to work to avoid punishment, but we are not actually working.
In conclusion:
Zoom fatigue and screen fatigue are in the same 'family', as they both cause eyes strain and anxiety, but like siblings, they are not the same.
What is similar, is whether zooming or working on-screen, the display screen is just as close-up, requiring sustained convergence and accommodation ( focusing to you and me), but, with zoom, it's larger objects to focus on, rather than the small text symbols that require serious visual stamina to continue making serial, sequential searches, fixations and saccads (again, more words that mean to focus and re-focus) when reading.
Turn the screen off. Rest your eyes, and don't forget our patented software can help reduce screen fatigue.
Having the optimised coloured background for your screen is not only soothing for your eyes, it means you won't need to fake it as much, and you'll be far less anxious.
Further Reading:
Nonverbal Overload: A Theoretical Argument for the Causes of Zoom Fatigue
How Zoom is Combating Zoom Fatigue
Zoom Fatigue Is Real — Especially For Introverts: 6 Ways To Recharge